Wine Bar at Copia
Downtown Napa's New Tasting Experience
Wine tasting on your terms. State-of-the-art dispensers with up to 24 curated offerings. Red, white, new world, old world, and trending—just have fun discovering with tasting portions or enjoy a glass. You get to choose.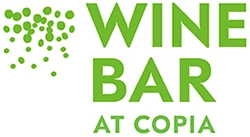 Hours: Seven Days, 11 a.m.–7 p.m.
Closed Thanksgiving, Christmas, and New Year's Day
Our self-serve dispensers are easy to use in just five steps:
Purchase a prepaid wine tasting card (available in $25 and $50).
Insert card into machine.
Select your wine and put glass under spout.
Select your pour size.
Enjoy!