Professional Programs
In addition to being a foodie wonderland, The CIA at Copia is home to a wide range of professional programs that only The Culinary Institute of America could offer. From master's degree and certificate programs to our signature thought leadership conferences, customizable culinary immersions for foodservice operators, consumer products companies, and more, professional programs at The CIA at Copia help guide the next wave of change in the food industry.

CIA Consulting
CIA Consulting Group's faculty and chefs offer a diverse menu of services, including training and workforce development; certification; and innovation, menu, and product development. Programs are customizable and designed to help clients achieve their business goals.
---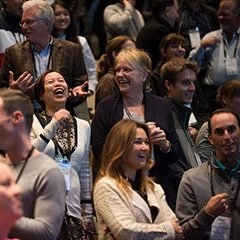 Thought Leadership Conferences and Retreats
Collaborating with top universities and scientists, the CIA is cultivating a healthier, more sustainable―and most importantly, delicious―future. Our thought leadership conferences attract leading chefs, foodservice operators, researchers, and food experts. They are a must for professionals looking to stay ahead of trends and issues facing the industry and position their businesses for the future.
---
The Food Business School
The Food Business School enables and empowers entrepreneurial leaders to design, deliver, and lead transformative innovations that address the world's most pressing food challenges—and its greatest business opportunities.