Grove at Copia
In accordance with state guidelines,
indoor dining at Grove Winter Garden is currently unavailable.
But good news!
We have re-opened our outdoor Garden Suppers
with new earlier hours (4–7 p.m.) and plenty of cozy heaters to accommodate the cooler weather, as well as outdoor Garden Brunch on Saturday and Sunday (
and Thanksgiving Friday
). Place your take-out order for one of our specially-priced
Family Meals To Go
with our
new online ordering,
or call
707-967-2555.
Grove Winter Garden
The Grove at Copia restaurant offers an expansive outdoor garden and an airy indoor atrium space for guests to enjoy safe, socially-distanced dining in downtown Napa. Our prix fixe menus—served family style—feature garden-fresh, seasonal meals prepared by CIA chefs. Join us for indoor or outdoor dining, depending on weather and guidance from the State of California. Or, pick up a Family Meal To Go and enjoy from the comfort of your own home.
Grove Winter Garden Hours

As spots are limited, reservations are strongly encouraged.
Questions? Please call 707-967-2555.
Reservations
"The Garden restaurant at Copia may be the best setting in Napa to have the necessary 'Social Distancing' while dining out."
—Robert

"It felt as though the restaurant took every precaution to keep diners safe and comfortable without impeding on the ambiance."
—Vivian

Review us on

Grove at Copia Menus
Menus change frequently. Check here often and follow us on social @ciaatcopia.


Friday–Sunday SupperWeekend BrunchFamily Meals To GoWine and BeveragesThanksgiving Take-Out Menu
Friday–Sunday Supper
November 27–29, Classic Steakhouse
PRIX FIXE: 52/person
FIRST COURSE
Wedge Salad with Blue Cheese Dressing and Crumble, Cherry Tomatoes, Bacon Lardon, Cucumber
MAIN
Oven Roasted Sirloin with Horseradish Mashed Potatoes, Sautéed Spinach, Wild Mushrooms, and Red Wine Reduction
DESSERT
Pomegranate Cheesecake
SUPPLEMENTS FOR THE TABLE
Lobster Mac and Cheese (+20)
Artisan Bread and Cheeses (+16)

* Limited vegetarian alternatives available.
** Menu subject to change to bring you the freshest ingredients from our garden.
Friday–Sunday Brunch
November 27–29
PRIX FIXE: 26/person
CHOICE OF
• Classic Eggs Benedict with Hollandaise and Model Bakery Muffins
• Gravenstein Apple French Toast with Maple Syrup
• Chilaquiles Verde with Fried Egg, Cilantro, Queso Anejo, and Crema Mexicana
• Brunch Salad Butter Lettuce, Hard Cooked Eggs, Avocado, and Poached Shrimp with Signature Dressing
• Brunch Burger with Fried Egg, Tomato, Avocado, and Point Reyes Toma Cheese
• Chicken and Waffles with Honey Butter
Served with Garden Fruit Bowl with Yogurt and House Granola
SUPPLEMENTS FOR THE TABLE
• Jalapeno Cheddar Biscuits (4) 9
• Rasher of Bacon (6) 7
• Hash Brown Cakes 7
• Ricotta Cherry Scones (2) 8
* Menu subject to change to bring you the freshest ingredients from our garden.
Full beverage menu featuring champagne and sparkling wine drinks, mimosas, and fresh fruit cocktails (proof and zero-proof).
Family Meals To Go
Bucatini with Pork Ragu – 42 for 2 / 80 for 4
Butter Lettuce Salad, with Cherry Tomatoes, Herbs, and Red Wine Vinaigrette
Pecan Brownies with Strawberries
Grilled Bavette Flank Steak with Creamy Polenta – 48 for 2 / 90 for 4
Garden Greens with Green Beans, Marbled Potatoes, and Champagne Vinaigrette
Italian Cookies
Fried Chicken with Potato Salad and Garden Pickles – 48 for 8-piece / 60 for 12-piece
Tomato and Cucumber Salad with Basil and Balsamic Vinaigrette
Snickerdoodles
* Menu subject to change to bring you the freshest ingredients from our garden.
All of our Wine can be purchased for take-out.
TO SIP AND TASTE
BEER
Scrimshaw Pilsner, North Coast Brewing 8
Pliny the Elder Double IPA, Russian River Brewing 10
FEATURED WINES BY THE GLASS
Cremant de Bourgogne Brut Rose Victorine de Chastenay, Burgundy 12
Schramsberg Blanc de Noirs, North Coast, CA 16
Domaines Ott Rose Cotes de Provence 14
Charles Krug Sauvignon Blanc Napa Valley, 2019, 12
Liquid Farm Golden Slope Chardonnay Sta. Rita Hilla, 2016 22
Ten Rows Pinot Noir, Carneros , 2017 18
Paraduxx Red Blend, Napa Valley 18
WINE FLIGHT
Any three wines, three ounce pours 25
ZERO PROOF
Fresh Brewed Iced Tea 4
Sparkling Water 6.5
** Menu subject to change
WINE LIST
SPARKLING
Brut Schramsberg J. Schram , North Coast, CA 2010 92
Brut Chandon Etoile, Carneros 45
WHITE
Sauvignon Blanc Charles Krug, Napa Valley, 2019 32
Sauvignon Blanc Fume Blanc, Grgich Hills Estate, Napa Valley, 2017 36
Chardonnay Freemark Abbey , Napa Valley, 2018 75
Chardonnay Hestan Vineyards, San Francisco Bay, 2014 99
Garganega, Farina, Soave Classico, Veneto, Italy, 2018 36
RED
Pinot Noir, Ten Rows, Carneros, 2017 45
Pinot Noir, Dutton Goldfield "Devil's Gulch Vineyard", Marin County, 2016 98
Red Blend Trefethen "Dragon's Tooth", Napa Valley 2016 65
Cabernet Sauvignon, Arrowood, Knights Valley, Sonoma County, 2014 65
Cabernet Sauvignon, Saint Helena Winery, Napa Valley, 2012 89
Cabernet Sauvignon, La Jota Vineyard, Napa Valley, Howell Mountain, 2004 162
Cabernet Franc Pride Mountain Vineyards, Sonoma/ Napa County 2017 92
Zinfandel Grgich Hills Estate, Napa Valley, 2014 48
Grenache Yangarra Estate, McLaren Vale, 2014 60

* Corkage 25
** Menu subject to change
Thanksgiving Take-Out Menu
Grove Winter Garden is closed Thanksgiving Day, but we're here to make your meal prep easier! Our Thanksgiving Sides Kit means you spend less time in the kitchen, and more time with family. We'll bring the sides and pies, you bring the turkey!
We are no longer accepting new orders at this time.
Pick-up is Wednesday, November 25 from Noon–5 p.m. PT at the restaurant entrance.
Thanksgiving Sides Kit—$100, serves 6–8
The full kit includes:
• Roasted Winter Squash with Herbs and Garlic
• Mashed Potatoes
• Sourdough Stuffing with Smoked Bacon and Greens
• Haricot Verts and White Beans with Shallot Vinaigrette (room temp)
• Cranberry Sauce
• Wild Mushroom Gravy with Porcinis and Chanterelles
• CIA Turkey Brine Mix
Apple Crumb Pie—$30, serves 8
Pecan Pie—$30, serves 8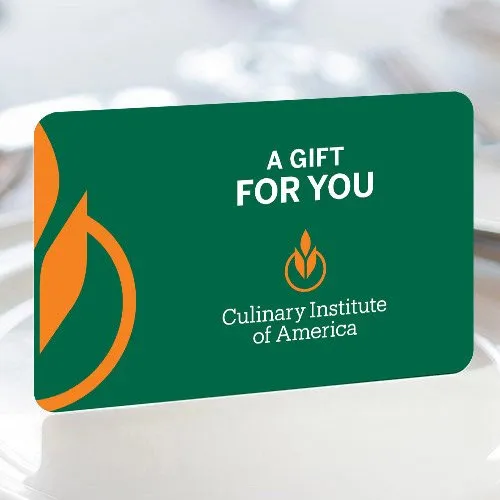 CIA Gift Cards—$25, $50, $100, $200
Safety
Your safety and comfort are our top priority. The CIA at Copia is implementing social distancing and other safety measures throughout our indoor and outdoor spaces. Read more about our safety measures here.
Located in The CIA at Copia's Colavita Olive Grove Terrace and Outdoor Kitchen.