Experiences
Chuck Williams Culinary Arts Museum
Step into the Chuck Williams Culinary Arts Museum and be transported to another time when the great chefs of Europe were creating beautiful and practical items to make their culinary masterpieces. With more than 4,000 artifacts of specialty cookware, bread baking and culinary tools, appliances, and tableware the exhibit will intrigue and fascinate you.

The Chuck Williams Culinary Arts Museum will open in August 2018.
Learn More >
---
K. LAZ Wine Collection
K. LAZ at the CIA Copia offers appointment-only tastings of elusive and highly coveted wines procured by proprietor Kerrin Laz, former wine director of Dean & DeLuca. The tastings are held in the beautiful tasting salon at Copia and can be expertly paired with food by request.
Open seven days a week, by appointment only.
---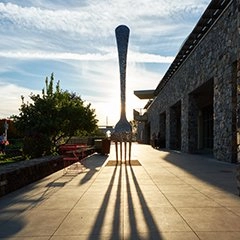 Art Collections
In addition to exceptional food and wine experiences, the CIA at Copia is an exciting venue to enjoy art.
As you stroll through our grounds, you will enjoy a few of our current art installations including two statues by local artist Gordon Huether—"Is that Bob and Margit?" and "Fork,"—the Wine Hall of Fame, and the Gutenstein Family Decanter Collection.
The artwork in the restaurant is focused on food, wine, and beverage. The bar area features photography of Brother Timothy's corkscrew collection, and the main dining room and our private dining rooms feature photography of items from the Chuck Williams' collection.