Experiences
Le Petit Chef 3D Dining Experience at Copia
Le Petit Chef 3D Dining Experience at Copia is a one-of-a-kind dining experience featuring cutting-edge 3D technology, visual storytelling, and unexpected flavors that will captivate the senses! During this two-hour journey, you'll discover vibrant sights, sounds, and scents inspired by Marco Polo's travels along the Silk Road, along with six delicious courses prepared by our exceptional CIA chefs.
---
France is a Feast: The Photographic Journey of Paul and Julia Child
Catch a rare glimpse of Julia Child's life in France with personal photographs taken by her husband, Paul. Presented by the Napa Valley Museum Yountville and on display for a limited time, this special art exhibit captures Julia Child's discovery of French cooking and the French way of life, which led her to become a celebrated chef, TV personality, author, and the grande dame of cooking in America!
---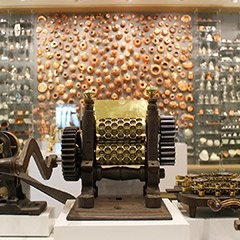 Chuck Williams Culinary Arts Museum
Step into the Chuck Williams Culinary Arts Museum and be transported to another time when the great chefs of Europe were creating beautiful and practical items to make their culinary masterpieces. With more than 4,000 artifacts of specialty cookware, bread baking and culinary tools, appliances, and tableware the exhibit will intrigue and fascinate you.
---
K. LAZ Wine Collection
K. LAZ at The CIA Copia offers appointment-only tastings of elusive and highly coveted wines procured by proprietor Kerrin Laz, former wine director of Dean & DeLuca. The tastings are held in the beautiful tasting salon at Copia and can be expertly paired with food by request.
Open seven days a week, by appointment only.
---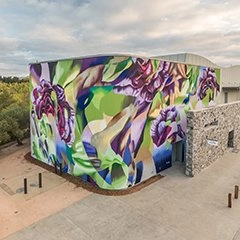 "The Garden" Mural, by Hueman
Over 100 cans of spray paint and 2,700-square-feet of corrugated iron were used to create our vibrant, two-story mural that showcases the concept of "food as art." Artist Hueman (Allison Tinati) found inspiration in the Copia garden, which she used to create this striking abstract portrait of butter lettuce.
---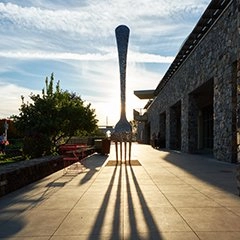 Art Collections
A variety of art can be found throughout the Copia property, including Gordon Huether's striking "Fork" and "Is that Bob and Margrit" (Mondavi) sculptures. Inside, you can brush up on your Napa wine history in our Wine Hall of Fame, admire the Gutenstein Family Decanter Collection, or view the rotating art exhibits we feature throughout the year.